Accommodation
Accessing the artists' residence at the Yron Priory gîte means being able to stay and work only a few metres from the spaces of the Yron Priory's cultural centre.
At your disposal :
A bright and harmonious dining room kitchen, with all the necessary equipment and materials: Refrigerator, freezer, hob, oven, dishwasher, Dishes, utensils, crockery
Rooms according to the number of artists hosted in residence :
On the ground floor: the François 1st room for up to 2 people with an independent bathroom with a stone and wood atmosphere and separate toilets.
On the first floor: several bedrooms can accommodate 1 or 2 people in double beds with quality bedding. Each one is served by an independent bathroom that combines stone and wood and separate toilets. These rooms will be allocated to you according to the number of artists in residence.
On the upper level: a large bedroom for 4 with individual beds and the same quality of equipment for the bathroom and toilets.
On the second floor: a suite, Jehan de Dunois for 2 to 4 people; independent bathroom and separate toilets.
In each of the rooms, which are decorated according to your wishes, the beds are made on arrival and two pillows per person are reserved for you.
An independent external staircase connects your accommodation to the cultural centre of the Prieuré d'Yron.
RC François 1er
1er floor l'Yron
1er floor l'Ozanne
Between the first and second floor the dormitory François Rabelais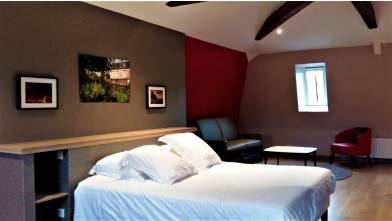 2ème room suite Jehan De Dunois
Kitchen with modular table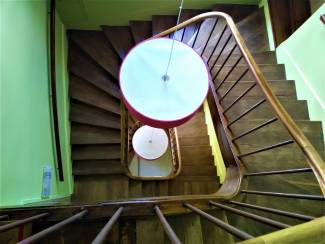 Spiral staircase serving the rooms
Artist résidency access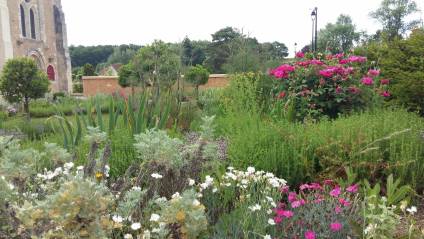 Priory garden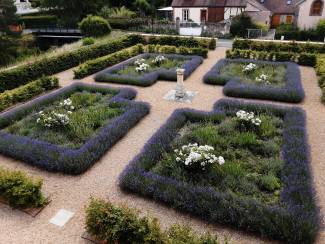 Priory garden