The gardens
Staying at the Yron Priory gîte, between two branches of rivers, is like staying in the middle of thematic gardens in an exceptional and preserved natural space.
THE GARDENS OF THE PREURUS
The plant species chosen correspond to the theme of medieval and monastic gardens to give meaning to the whole site:
Vegetal cloister for meditation and mind maintenance.
Gardens of the simple for the care and maintenance of the body.
Orchards, vegetable gardens and old berry gardens for food.
The plants are all of local and historical origin.
The park of the priory has been planted with species whose foliage brings all the nuances of colors and shapes. While it responds to the theme of "the painter's palette of colours", it offers beautiful pedestrian traffic.
Night lighting licks the transecular buildings.
From the priory, you can reach the Emile Zola park, following the variant of the Santiago de Compostela path, by the spring path. You can admire the Yron River, which rises above the Priory, and a completely renovated washhouse.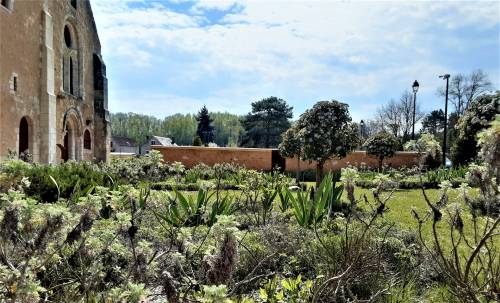 THE EMILE ZOLA PARK
This large wooded park of more than 7 ha, located between two arms of the Loir, offers various paths presenting the lives of six local writers, and a vegetable labyrinth leading to a raised observation area.
The music kiosk hosts concerts (Estivales, Fête de la Musique,...) whose program is to be requested from the Maison du tourisme.
Parc Émile Zola is home to the Henri IV Tower and several washhouses, including a two-storey washhouse, unique in Eure-et-Loir.
Benches and picnic tables are available, as well as several playgrounds for children.
In the evening, the lighting of the Park and the banks of the Loir transforms the paths and amazes the eyes. photo copyright Angéli.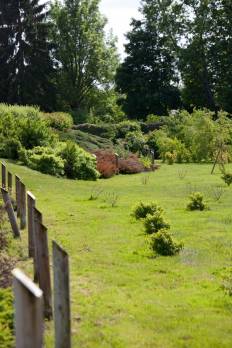 THE ARBORETUM OF THE DINOUE
After crossing a unique iron and steel footbridge, you can discover the arboretum of Dinoue, a veritable conservatory of wetland species, planted in islets, by family: alders, dogwoods, ash trees, liquidambars, willows, cypresses.
This arboretum also contains Sichuan Metaquoia, listed as endangered by the International Union for Conservation of Nature.
Very beautiful walks and discoveries !