Workspaces
The gîte du prieuré d'Yron is located a few metres from the former Prieuré d'Yron, which has been converted into a cultural centre since 2016.
For their various works, the artists will be able to access the interior and exterior spaces of the Prieuré d'Yron cultural centre, as provided for in the rental contract for the artists' residence.
THE INTERIOR SPACES OF THE CULTURAL CENTRE 
The Cultural Centre of the Priory offers two levels of rooms:
on the 1st floor with access by the turret: 2 large rooms of 85 m2 and 106 m2, equipped with picture rails for exhibitions.

on the ground floor: a reception area with bar and changing rooms and a theatre with retractable stands for 95 people. Very recently, scriptwriters have equipped it, like the Parisian theatre cafés, with the latest generation of scenographic elements.
The 28 m2 stage is a little over 7 m long and nearly 4 m deep.
This space allows you to schedule different cultural events, concerts, plays, songwriters, film clubs.
THE EXTERNAL SPACES OF THE CULTURAL CENTRE 
Artists will be able, under conditions to be defined with the community, to create or exhibit their works in the open air, in the gardens of the Priory.
The variety of the essences chosen makes it possible to find "the painter's palette of colours".
The park offers pedestrian traffic, places of discovery that encourage contemplation.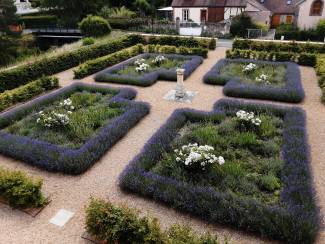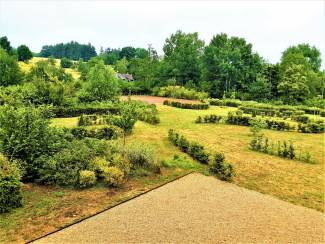 THE CONTRACT FOR THE RESIDENCE OF ARTISTS
The rental of the artists' residence is subject to a specific contractual commitment.